Our Clients
Food Trucks 2 Go is a great alternative to your typical catering service. Food trucks are fun, hip, efficient, and can turn any event into an unforgettable experience for you and your guests! The Food Trucks 2 Go team understands that no event is too small. We treat every client as a top priority. We have an expansive network of food truckers from our years of experience with our parent company Food Truck Festivals of America. By choosing Food Trucks 2 Go, the pressure is off to find and communicate with the food trucks. Leave it to us to customize menus, reach out to trucks, market your event, and more! The event services we offer include:
Catering and Menu Planning
Permit Consulting and Acquisitions
Marketing and Public Relations
Staffing
Tent Rentals
Theme Consultation
Additional Vendors- games, children's activities, etc.
At Food Trucks 2 Go, we cater to any and all private and public events. Some of our events have included:
Corporate Events
Weekly Programs
Sporting Events
Conventions
Some of our past clients have included: (with photos)
The Arsenal Project: Food Truck Wednesdays
When the Arsenal Project was bought by a new developer looking to attract more office workers to their mall to view the changes taking place at their property, we proposed a food truck program. After three years, Food Truck Wednesdays attracted hundreds of area professionals to the property and the program expanded from four food trucks to eight.  In addition, the program generated lots of positive social and traditional p.r. (just chosen by the Boston Globe as one of the four best places to find food trucks).
Genzyme: Fall Fest
Every year, Genzyme puts on an employee appreciation event for their staff called the Fall Block Party. The event for 600 guests features seven gourmet food trucks, candy apples, corn hole, a fresh donut station, fortune teller, pumpkin painting, photo booth and live entertainment!  FT2G has been hired for the third year for their September, 2016 Party.
Suffolk Downs Racing Days and Food Truck Festivals
After losing its bid to become a casino and racing complex in 2015, and being approved for several live racing dates, we pitched the racetrack on the idea of racing and food truck festival days featuring a dozen food trucks, face painting, a bounce house, and pony rides for the kids. Now in its second year, Suffolk Downs Horse Racing & Family Fun week-ends have doubled in size to 3 weekends.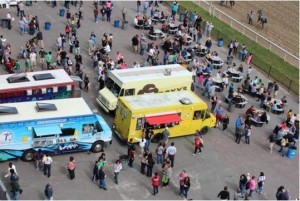 Massport: Awards Ceremony and Luncheon
Once a year, the Massachusetts Port Authority holds an awards ceremony for their airport employees. The event – which FT2G has been hired to help with for three years consists of the official award ceremony, a keynote speaker & reception featuring food trucks. David Ortiz and The Governor have been speakers in the past. Held in the JetBlue hanger, this event is a fun way to celebrate Massport's annual accomplishments and enjoy amazing food.
City of Everett: Village Fest
The City of Everett, MA  put on their first ever street fair "Village Fest" featuring the legendary Wailers and twelve food trucks! The event brought in over 6,000+ guests and helped the City to showcase a new section of town.
Party With Food Trucks?
Let us take care of the catering.
Book great food trucks for your next event.